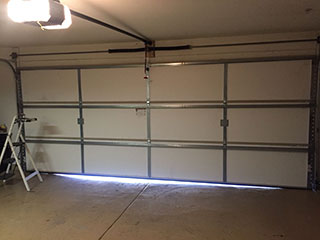 There are a lot of working parts that help your garage door move up and down smoothly, and it's inevitable for such a complex mechanism to experience some issues now and then. However, a great majority of problems can be prevented with the right maintenance routine. Our experts know how to reduce the potential for malfunction and increase efficiency and security.
Leave It To The Specialists
The springs are some of the most important parts of your garage door system. The reason for that is because they are in charge of bearing the weight of the panels and helping them move upwards by providing them with tension based force. Every component that's under as much pressure as garage door springs are will eventually break down, which is why having them regularly inspected, lubricated and adjusted by professionals is so beneficial. Dealing with these components can be dangerous, so this is one job that should only be handled by experts.
The Safety Aspect
Garage doors can weigh up to three or even four hundred pounds, and if that weight closes down on you, you will be seriously injured. One of the ways garage door opener manufacturers decided to prevent that from happening was with the implementation of safety sensors. These photoelectric eyes are installed on each side of the door's threshold. They send an invisible beam between them and alert the opener every time someone or something breaks that beam. The opener reacts by stopping the door from closing and reversing its movement if it's mid operation. Sensor alignment is therefore very important, and misaligned units will fail to properly recognize an obstacle and put your safety at risk. One of the key focus points of our maintenance service is checking and (if necessary) realigning these components to make sure they do their job properly.
Every Other Part
Of course, we will check everything else while we're servicing the components mentioned above. The tracks and rollers will also be examined, straightened out and replaced if their condition proves less than ideal. We will also make sure the panels aren't dented or cracked, and fix them accordingly.
Always At Your Service
Don't hesitate to reach out to our team at Garage Door Repair Burnsville and have our technicians take care of the important tasks that comprise regular maintenance. Call us today for more information.
Looking for more? We also offer:
Overhead Door Repair & Installation
Genie & Liftmaster Opener Services
Galvanized Torsion Spring Installation
Garage Door Troubleshooting Services