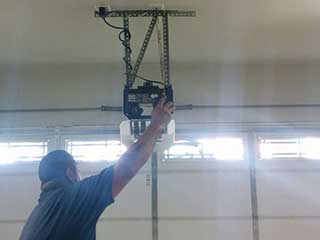 The most vital element of your automatic garage door is its electric opener. This is the unit that controls your door's movement every time it's used, which means it has to work perfectly with dozens of other components, like the springs, cables and rollers. It's a complicated device, and there are many things that can go wrong with it, from faulty wiring to circuit board glitches and mechanical issues. Whatever the problem is, rest assured that our technicians can fix it.
Repairing Malfunctioning Units
If your opener has developed a problem, whether it's an electrical fault or a broken motor gear, our team will quickly identify the issue. We'll then apply the best possible solution for it; this could be reprogramming your remote control to work properly with the opener, adjusting the chain drive to ensure smoother operation or replacing the circuit board with a new one, to mention a few potential scenarios. Whatever the problem is, you can count on us to effectively resolve it.
KeepIt Running Smoothly
Like every other part of your overhead door system, openers are built to last. However, in order for them to reach their maximum lifespan, they need regular professional servicing. Our technicians will check to make sure the motor gear and the trolley and rail aren't about to break down unexpectedly, and we'll also test the safety sensors and realign them if they got out of position.
Choosing And Installing A New Unit
In addition to offering first-class repair and maintenance services, our team also provides professional installation for new openers. We work with some of the top brands in the industry, such as Chamberlain, LiftMaster and Genie, and we can help you decide which model is the right one for your home. We'll make sure you don't neglect to consider things like horsepower requirement, noise output and the option of smartphone connectivity.
Don't Delay - Contact Us Today
If you're in need of emergency opener repair or you're interested in getting a new unit but don't know where to start, our experts at Garage Door Repair Burnsville are at your service. Call us today.
Need more? We also provide:
Part Replacement & Lubrication
Opener Sensor Replacement
Oil Tempered Torsion Springs