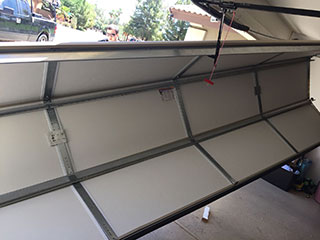 We hope that you'll be one of those rare cases where you'll never need the help of professionals with something to do with your garage door. However, if like most homeowners, you end up experiencing some type of problem, you can rest assured that our team will be there to help as quickly as possible.
Wooden And Steel Panels
It doesn't matter to us what your door is made of, as our technicians are experts at everything from fixing minor dents and cracks to complete panel replacement. We will make sure that your door's security and curb appeal aren't hindered and that it's able to adequately protect your belongingsfrom outside weather.
Expert Spring Repair
Garage door spring replacement is one of the most common servicesthat people tend to require. These components are under a lot of tension and will eventually break down if they aren't replaced in a timely fashion. Performing this procedure can be highly dangerous, so it's advised that you never attempt to complete it by yourself;especially not when you can rely on our team for it. Extension and torsion spring replacement is one of the many areas we specialize in, so you can always count on us for assistance.
All Your Opener Related Needs
Another major aspect of our services is garage door opener repair. We can fix everything from the unit's drive system (be it chain, belt or screw) to the interior motor gear and logic board. Count on us to make sure the unit returns to a fully functional condition quickly, and for an affordable price.
The Only Team You Need
Our specialists at Garage Door Repair Burnsville are here to help you with whatever you need. If your tracks need to be straightened, your rollers need to be replaced or your opener fails to work for some reason, you can always count on us. Give us a call today.
We also offer:
Garage Door Tune Up Services
Extension Spring Adjustment
Track Replacement & Repair