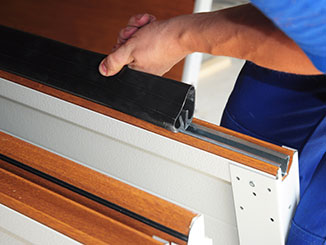 Depending on where you live, fortifying your garage door against the weather might be one of the most important things you can do to keep it working properly and avoid expensive repair jobs in the future. Water can really do a number on your door and tracks, and both hot and cold weather can make your garage uncomfortable to be in if it doesn't have good air circulation and insulation. Here are some tips for keeping your garage ready for all seasons.
Cover The Edges
Moisture can slip under your overhead door or into the tracks along the side. This can make your garage uncomfortably cold and – much worse – cause your tracks to warp or rust. Make sure the bottom of your door is covered by a weather strip, and replace it when it starts getting frayed. The sides of your door should also be insulated and caulked, especially if there's a spot where the metal is visible.
Keeping Warm In Winter
Insulation is important when the weather gets cold and humid. If your door doesn't come with weather insulation, you can purchase an insulation kit yourself, or – better yet – call our professionals to do a thorough job. Keep in mind that the thicker the insulation, the stuffier your garage might get when its hot out, so if you're prepping for some cold winters you'll also need to help the air flow when the other shoe drops.
And Cool In Summer
The simplest solution to keeping your garage from getting too hot is to just add some well-insulated windows or ventilation ducts that you can open as needed. Otherwise, you could consider adding a powered fan; with some efficient electrical wiring, you could even plug it in alongside your opener unit.
Watch Out For Rust!
The biggest hazard posed by weather to your garage door is the specter of rust. The door tracks are at the greatest risk of rust, but if there's a crack in your weatherproofing moisture could effect your springs as well. No matter how well your door is insulated and sealed, you should always be on the lookout for rust, and have your system examined by a professional once or twice a year.
To learn more about what you can do to weather-proof and insulate your garage door, or to get a professional opinion on how to deal with yours, give us a call at Garage Door Repair Burnsville today.